Catch up with our blog and get up to date
with digital marketing content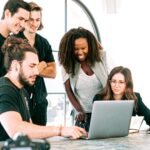 Here in this post we will explain how a Digital Marketing Plan is structured.
The plan shows the details of the entire planning of your digital marketing campaigns or actions.
It is detailed in short, medium and long term business goals with strategies to achieve the objectives at the digital level. Organizing the channels you will use as well as the action and development plans. And finally the investment and budget available for this. Calm down, you will need to invest, but it doesn't have to be a lot at the beginning!
Read More